Decisive Campaigns III design blog #7
This is a continuation of the invasion of a deserted Russia. We are field testing the logistical systems. For the first part refer to the previous blog post 'Russia on Ten Barrels a Day'.
By D+12, the 4th July, 1941, Hoepner's 4th Panzergruppe has crossed the Dvina River and taken Dunaberg and Riga. As you can see from our status report below, their fuel situation is still reasonable, a comfortable full quota remaining.
Guderian and Hoth's (2nd & 3rd PG's) in AGC are racing down the main highway to Moscow and have captured Minsk and Vilnius. With over two fuel quotas on hand they are in excellent shape. As AGC has the largest fuel allocation and they have clocked up the smallest mileage to date this is to be expected.
Down south, however, Kleist's 1st PG are within 120 km's (there's a game option, 'Imperial Measurements', for those that don't speak Metric) of Kiev but their fuel reserves are down to half a quota. Next turn, unless they call a halt, they'll run dry.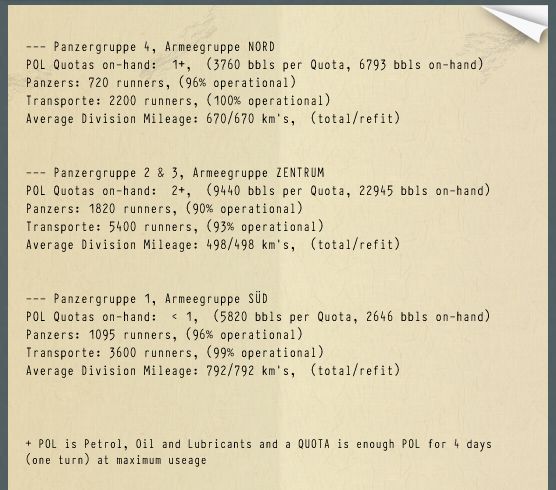 This situation warrants further investigation.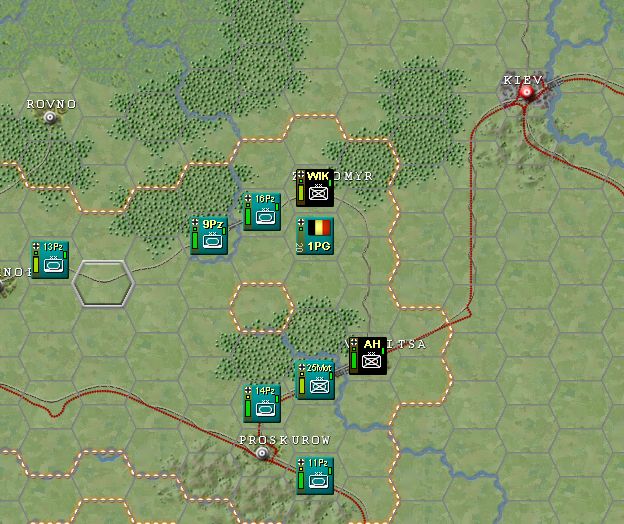 Not a Russian in sight! You can see the SS Motorised Divisions, 'Wiking' and 'Adolf Hitler' closing in on Kiev. Will they get there before they splutter to an ignominious stop? Probably not.
Let's check the Daily Log for AGS and see if our staff have highlighted any discrepancies.

Ahhh! Our Forward Supply Base hasn't moved forward. It's still back across the border at Krakau, in Poland. I thought that I'd sorted that out during the last blog ('Russia on Ten Barrels a Day'). Apparently I only talked about it and forgot to issue the appropriate orders.
Which is unfortunate, as can be seen from our staff notes above, there is no rail component in use. Because our Forward Supply Base is still back at our Main Depot (the AGS depot – remember each theatre has it's own independent logistical system) everything is being transported by truck columns. These are effective only up to 300 km's.
By forcing our Truck Columns to travel excessive distances (there is an exponential penalty once the distance exceeds 300 km's) Kleist is receiving no fuel, up at the front line, where he needs it.
Worse, the large distances involved, plus the fact that Kleist has positioned his HQ off a main road (see the unit pic up above) has caused excessive wear and tear on our truck columns. Indeed, reading our report above, this increased +10% last turn with all of it being due to the poor quality roads (+8%) and the high accumulated mileage (+5%). The mobile repair workshops were overwhelmed (managing to fix only 3% of the damage). If this situation continues deteriorating shortly we won't have any functioning truck columns left.
Note on Roads: There are a number of different types of roads shown on the game map in addition to various rail types. Any hex without either a road or rail displayed is assumed to have local roads/trails of some form (unless it's adverse terrain, eg. A swamp such as the Pripet Marshes). As the established roads in Russia were of a very poor quality the local roads can be taken as nothing more than goat tracks. By positioning Kleist's HQ in an open hex with no established transport network we are forcing our Truck Columns to shake, rattle and roll down rough country lanes in order to reach him.
All is not well in the world of trucks. We thump the desk, kick the nearest staffer in the backside and demand to be shown the latest Truck status report.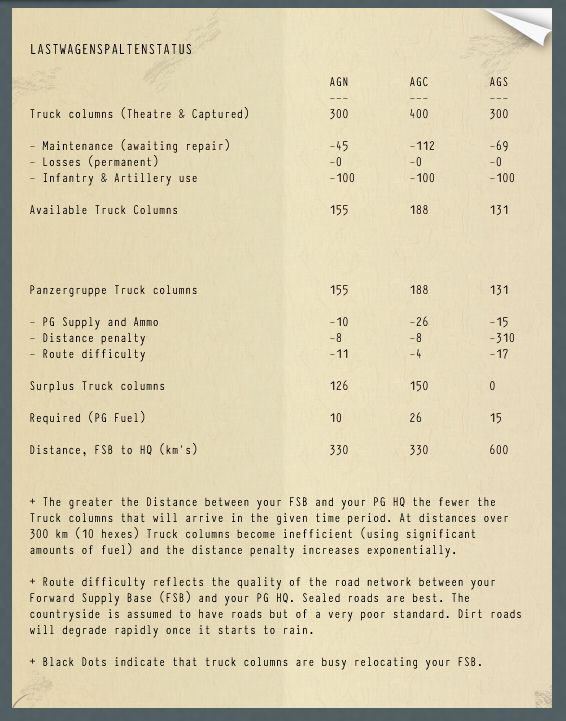 As a result of our negligence in not relocating our various Forward Supply Bases in line with our rapid advances we have all three theatres being forced to run their Truck Columns over the 300 km threshold. The problem is most acute in AGS with a crazy distance of 600 km.
Already we have 69 Truck Columns down for the count with mechanical problems. Each Truck Column represents around 20 individual trucks. In fact AGC has almost double that number out of action but they started with a larger pool of trucks and are still managing to get enough through to Hoth and Guderian's HQ's.
Have a look at the distance penalty for AGS. Ridiculous! We would need over three hundred Truck Columns, fully functional, to provide a fuel delivery service to Kleist's 1st PG.
This is because the columns need to cover the 600 km's for the delivery and another 600 km back to their Forward Supply Base to pick up their next load of fuel. As each turn covers a 4 day period the underlying algorithms calculate the amount of fuel that can be transported, taking into both account time and distance. The greater the distance traveled, the fewer deliveries can be made in the time allowed.
The game engine will calculate the most optimum transport route and tally up the cumulative total of each hexes 'route difficulty' (road or rail quality). There is no hiding from the Logistical Auditor.
The report tells us that to adequately cover the 600 km distance we'd need at least 310 Truck Columns. As we only started the campaign with 300, have already lost 69 to breakdowns, have another 100 dedicated to resupplying the other Armies in the theatre, 15 to handle PG ammunition and supply requirements and would need an additional 17 columns to allow for the poor roads, it appears we have an unsolvable problem.
We could, if we wish, reduce the number of truck columns allocated (100) to supplying the line infantry Armies and Artillery. Doing so runs the risk of them suffering from ammunition shortages but it would free up more trucks for fuel deliveries. There are political implications with this decision.
Yet all we need in order to adequately supply Kleist's 1st PG are a meagre 15 Truck Columns. How many do we have available? Zero. Nor are there any truck columns getting through with ammunition.
The advance of 1st PG across the steppes of the Ukraine has effectively come to grinding halt on day 12 of the campaign. This is despite the fact that there isn't an angry Russian to be seen anywhere.
Before we slink out of the Command Centre in disgrace, we'll take a quick look at the Logistical Report for AGS.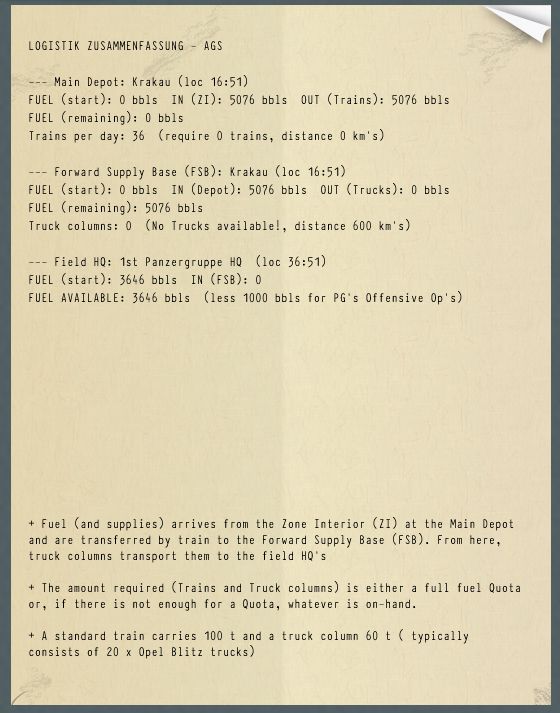 You can see that 1st PG HQ has 3,646 bbls of fuel remaining on hand. This is the aforementioned half a quota and Kleist's panzers will be running on empty before the turn is done.
Unfortunately we have exceeded the reach of our Truck Columns and subsequent turns will see the desperately needed fuel stockpiling up at our Forward Supply Base with no means of getting it from there to where it is needed (Fast Divisions draw their fuel, not from a global stockpile, but directly from the amount that resides at their relevant HQ, in this case 1st PG).
To rectify the situation we will have no choice but to halt the advance of 1st PG and wait until our Forward Supply Base is relocated. Because we are way over to the east this is probably going to take another 16 days (4 turns). By moving the FSB we will be able to shift the main transport burden off the shoulders of our Truck Columns and onto those of the Rail Network (which, as can be seen above, is idling with nothing to do).
Worse, by the end of the current turn we will have trashed close to one hundred of our Truck Columns, a third of our starting pool. Trucks are in short supply and the shortage will severely curtail our future ability to operate Panzers any further than a stone's throw from wherever our Forward Supply Base is located.
However are we going to explain this to the Führer?
Feeling a mite queasy, it's about now that we pick up the Bat phone and call the Luftwaffe. We request an emergency Air resupply of Fuel (we could also do the same for Supply but not both in one turn).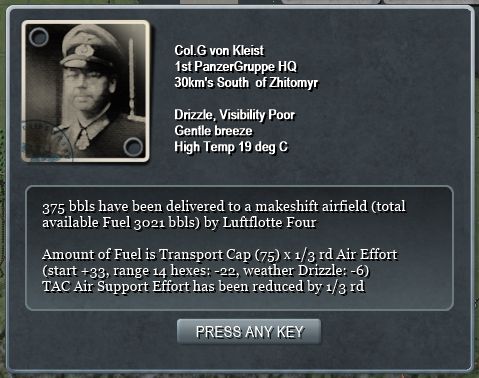 Luftflotte Four has, it turns out, the capacity to airlift 3,021 bbls of fuel, around 2/3rd's of a full quota. This is a substantial amount that would have enabled 1st PG to remain operational for another four days. Perhaps there is a glimmer of hope with continual airlifts covering the gap while we wait for our Forward Supply Base to relocate?
Unfortunately the weather (drizzle, poor visibility) and, mainly, the excessive distance from the main AGS airfield whittled this down to a paltry 375 bbls.
For receiving this pittance we have managed to dilute Luftflotte Four's ability to provide Tactical Air Support by a third. Not a good exchange.
Memo to self. Remember to roll the main airfield eastwards as well as the Forward Supply Base when advancing.
As you can imagine, our relationship with General Wagner, the man in charge of all Truck related matters, has suffered a sharp deterioration in the space of less than a fortnight.

Having General Wagner offside so early on in the campaign will crimp our ability to rebuild our logistical pipeline. General Gerke, as can be seen above, is happy to work with us but he's the man in charge of Trains, not Trucks.
All in all we (hey, you're reading this, you can take some of the blame) have made a mess of our advance in the South. Through our negligence it has come to a grinding halt and, even when it resumes, will continue to struggle with ongoing logistical and relationship issues.
I was hoping to cover a lot more ground with this post and was keen to see how close to the Urals my panzer columns could get before everything collapsed in a big heap of smoking trucks and trains. Instead I disappeared down the rabbit hole and got distracted by one part of the bigger picture.
There is a lot more to see, logistical wise, that I haven't covered yet but that will have to wait till another post.
If you've read this far it's worth remembering a few things. Firstly, the logistical system, while detailed and involved, is fully automated.
Your input, as a player, is in deciding when and where to relocate your FSB, how far ahead you are willing to advance your Panzergruppes, how far you are willing to deviate from the main transport routes and in knowing how far you can stretch the individual components that make up the three independent logistical pipelines.
There are also a multitude of logistical decisions (such as the 'Tires' one in a previous blog post) that require your attention, all of which have a meaningful impact. These have been omitted as they probably require a post each in their own right. Nor have I mentioned the equally important relationship aspect of managing your logistical situation, except to provide a brief update at the end.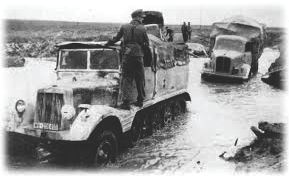 As you can see there is a lot going on and all the various components – logistics, relationships, decisions – are intertwined. There is very little, if anything, that you can change without there being a flow on effect on some other, related, aspect.
It's also pretty obvious how quickly it can go pear shaped after seeing how I've managed to get all tangled up in knots, by forgetting a few basics, after only 4 turns on an empty map.
The logistical aspect of the game, while being micromanagement free, does require your full attention. The nature of the campaign is that you will, when playing as the Germans, confront increasingly severe problems the further you advance but not normally so major at such an early stage.
This part of the game can't be delegated however there is a more forgiving option of 'Easy Logistics' available.
The design aim has been to provide a detailed, interesting, micro free, decision space that is easy to manage but challenging to get right.
It's also a lot of fun.
Cheers,
Cameron